Sākums » WAECO-DOMETIC » Aprīkojums speciālajam transportam
Aprīkojums speciālajam transportam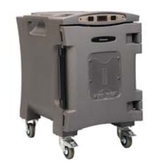 Specifikācija
Dometic GB-24 PLUS
Termo konteiners ar kompresoru siltas vai aukstas pārtikas produktu pārvadāšanai. 12v vai 220 v barošana. cena norādīta bez pvn 21%.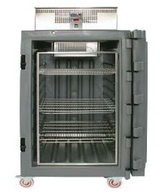 Specifikācija
Dometic RF-1000
Profesionālas lietošanas konteiners pārtikas transportēšanai. 12/220v vai 24/220v barošana. temperatūras režīms ‐20°c līdz +12°c. tilpums 920 l. sīkāka specifikācija pēc pieprasījuma. pieejami arī citu tilpumu konteineri. cena norādīta bez pvn 21%.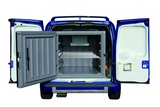 Specifikācija
WAECO CoolFreeze 850VAN
Produkta specifikācija
- standard model: temperature range of +0°c to +12°c
- cool/heat version (cf-850 van hf) with extended temperature range of +0°c to +30°c; advantage is to either use the unit in very cold temperature environments and/or to set temperature at room temperature (+15 - +25°c) for certain applications (transport of chocolate, medicines,...) requiring higher temperatures. price on request.
- cf-850 van bu: downgraded version (no integrated battery,...): temperature range of +0°c to +12°c, price on request.
standart model:
gross capacity: 850 liter
voltage: 12 volts dc, 220-240 volts ac
average power consumption: 150 watts max. at 12 volts dc
220 watts max. at 220-240 volts ac
(360 watts during battery charging)
temperature range: 0°c to +12°c
insulation: pu
system: dc compressor with mains adapter and battery charger for integrated gel battery
material: hdpe (high-density polyethylene) / polyurethane
colour: grey
dimensions (wxhxd): 1100 x 1000 x 1400 mm
weight: 160 kg
quality features: independent operation for up to 8 hours with battery integrated as standard, or up to 16 hours with second battery available as optional extra, excellent temperature distribution with air circulation system, low energy consumption through optimised insulation, digital temperature readout with accurate set point adjustment, separate control and display sensor, visual temperature alarm, dual magnetic seal, high-performance multi-led interior light, lashing eyes on the sides of the unit, fast and secure fastening with lashing strap set supplied as standard, transport-proof closing system (can also be opened from inside), simultaneous cargo cooling and battery charging
test mark: ce, tüv/gs, e1, atp, haccp compliant, 74/408/eec, crash tested accoding to ece r80
scope of delivery: set of cables, 1 large stainless steel grill tray, integrated gel battery, lashing strap set
Termo konteiners ar kompresoru pārtikas produktu pārvadāšanai. iebuvētas gēla baterijas nodrošina dzesēšanu bez strāvas līdz 16 stundām. iebūvēts apgaismojums. 12v /230v barošana. lieliska alternatīva, ja nevālaties pārbūvēt automašīnu. cena norādīta bez pvn 21%.