Sākums » WAECO-DOMETIC » Vīna skapji
Vīna skapji

Specifikācija
DOMETIC DW6
Vīna pudeļu dzesētājs 6 standarta vīna pudelēm. tilpums 16 litri. cena norādīta bez pvn 21%.
Cena - 179.00 EUR
Specifikācija
Dometic MaCave D15
Produkta specifikācija
Subheading dual zone wine cellar for 16-23 bottles
dometic ma cave models have 2 separate temperature zones. they can be individually regulated within a temperature range of 5 °c to 22 °c to suit both red and white wine. providing the optimum storage conditions for serving wine at any time. ideal for at home, in conference rooms and gastronomy! the cellars are fully equipped with a maximum number of storage shelves included in every delivery. includes: 5 sliding wooden shelves with aluminium front panel for labelling, key and lock, 4 adjustable feet, 1 active carbon filter and 1 water container, pop sticker.
touchpad control panel with background illumination lockable glass doors reversible door hinge stainless steel door frame and handle automatic defrosting colour: black
door type glass door
cooling technology compression
dimensions. (hxwxd)
height (mm) 865
depth (mm) 615
weight (kg) 34
max. storing capacity (bottles) 23
min. thickness of insulation (mm) 35
energy consumption @amb temp 25°c (kwh/24h) 0.5
voltages (v) 115, 220, 230, 240
frequency (hz) 50/60
Divu temperatūras zonu vīna skapis ar regulējamu temeperatūru 5°c līdz 22°c. vieta 17 pudelēm. pieejami arī cita izmēra vīna skapji. cena norādīta bez pvn21%.
Cena - 559.00 EUR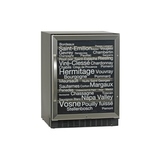 Specifikācija
Dometic MaCave S46G
Vīna skapis 46 pudelēm ar atsevišķiem nodalījumiem baltā un sarkanā vīna glabāšanai. cena norādīta bez pvn.
Cena - 899.00 EUR